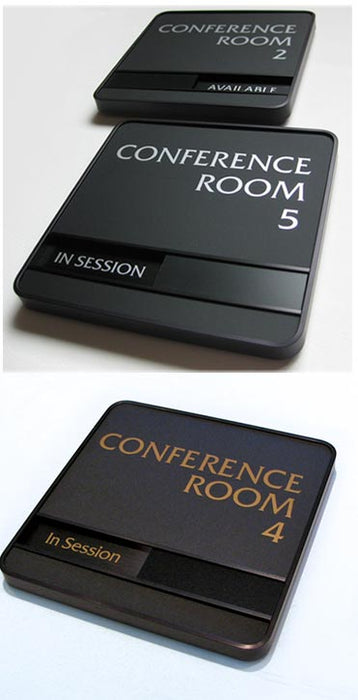 Executive Gold Sliding Office Conference Room Sign
Conference Room & Doctor or Personnel Availability Signs
The perfect Meeting Room Sign
- A very elegant office sign option with a rich black metal frame enhanced by gold or silver lettering on a premium matte black sign plate. Dimensions are 6" x 6" or 8" x 8".
This sliding nameplate sign is ideal for conference rooms & meeting rooms, but is suitable for any office employee or room designation. Occupied Signs and Slider Signs help to inform others of the availability of any office room or enhance any employee offices.

The slider tab displays room availability - slide to display standard "In Session" or "Available" or customize the sign to your needs to read something such as "Occupied/Unoccupied"

Standard sign reads "Conference Room" in ALL CAPS as pictured, but use the fields below to add personalized text such as room names, Nurses Station, Waiting Room, etc. Order and customize up to 3 signs at once. Be sure to enter the correct Quantity according to how many signs you are customizing. Use the special notes at the bottom of the page to insert any additional instructions, such as "place text on 2 lines", or "use upper and lower case lettering", etc - customize this sign at no extra charge.
Office Signs Ideal for Doctors Offices and Demanding Health Care Professionals with Sliding Availability Tab