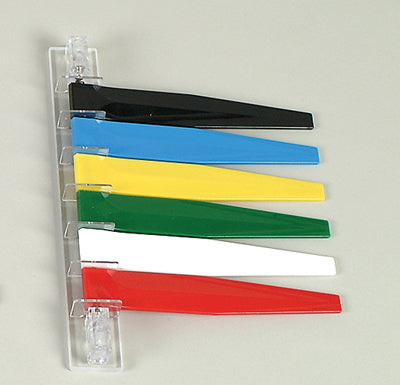 Room Status Flags - Colored Room Markers
Room Status Medical Flags
These easy-to-use room status signals feature six colored flags (red, white, green, yellow, blue and black) to clearly display the status of your rooms.  This product offers a simple and elegant solution for designating which doctor is in a room and/or the status of each room (occupied/unoccupied, patient ready for labs, X-rays, ready for cleanup) for your hospital staff.  A great way to provide instantaneous information in your medical facility or office!
Each highly visible flag extends 7.25 inches from the wall or your mounting surface and moves independently with tensioning springs.  The clear plexi-glass base that houses the flags is easily mountable using two screws (provided) (other mounting hardware may be required depending upon your mounting surface and is not provided).  The product is scratch resistant and is easily wiped clean.
Use these flags by themselves or in tandem with our other signage to complete the look of your medical office or facility.  Additional sizes and color variations, as well as quantity discounts are available upon request.  Ask our service team about quantity discounts.