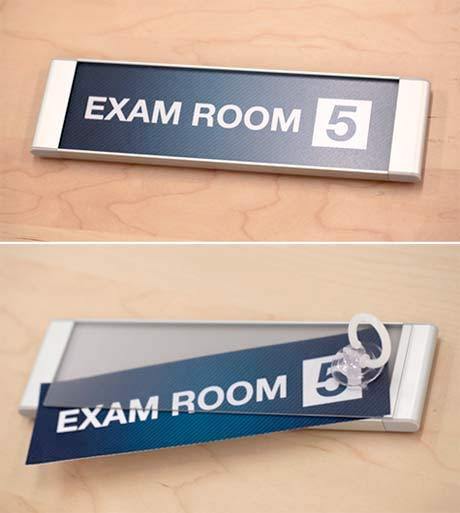 Satin Silver Wall & Door Signs - with Removable Lens (Inserts Sold Separately)
Satin Silver Wall & Door Signs - Removable Lens
These stylish satin silver aluminum frames with a clear removable lens make it easy to keep signage up to date. Create your own custom inserts on a regular basis and interchange them at your leisure. These signs are ideal for hospital rooms, doctors' offices, nurses' stations, conference rooms, cubicles, and great for architects and/or building managers looking for a stylish, updatable sign and room marker.
Many sizes are available to suit your signage needs. The dimensions listed indicate the physical insert size of the sign. Add 1-5/16" to the insert width for overall width of entire sign, and add 1/8" to the insert height for overall height of sign. Inserts are not included. This product is designed so you can create your own paper/card stock inserts (templates are available upon request), but we can create inserts in a printed aluminum, engraved acrylic, or DuraSOL material for an additional fee. Call or e-mail our service team for a quote: (701) 566-3220 / service@medicalofficesigns.com.
One suction cup is included for every five Satin Series signs ordered, which is needed to remove the clear lens from the frame. Larger quantities may necessitate a longer lead time.
Click here to purchase inserts for this sign