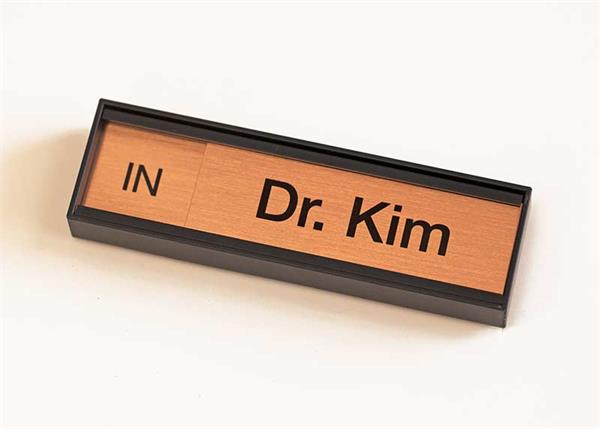 STOP GO Sliding Office Signs
Mini Sliding Message Occupied Office Signs - 4"
For demanding professionals - Our 4" x 1" mini message slider signs include a full color name plate that slides left to right uncovering a changing message of your choice. Standard sliding plate color is yellow, but can be customized to match the color of your choice. Also, you can add custom text in the Personalization Fields below - free sign personalization at no extra charge. Standard message areas read "Vacant/Occupied" but can be custom text of your choice, for example 
In/Out
 or 
In Session/Available
, 
Unavailable/Available
, etc...ideal for various health care signs.The rich black aluminum frame has an inside depth of 1/2" and stands off the wall 5/8".
The top sign name plate can also be personalized to fit your current sign needs - simply by entering custom text in the Sign Personalization fields. Be sure to update the "quantity" box with the appropriate number of signs you wish to order. If you have a long list of names its helpful to email us your name list for order accuracy and ease of use.
Personalize this architectural-quality sliding sign for 
medical office signs
, restroom occupied signs, doctor's offices, meeting rooms, hospital emergency rooms, personnel nameplates or whatever you need. - Ideal door sign to display the availability of any person, bathroom, employee or room.
Full Color Occupied Door Signs, Sliding Office Signs for Medical Offices, Hospital Facilities & Demanding Professionals - Slider In Session Room Signs, In-Out Signs, Changing Message Slider Availability Office Door Signs