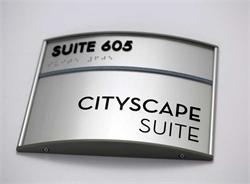 ADA Braille Curved Sign System
These contemporary and stylish satin silver signs are great for any hospital, clinic, office or building project that requires adding one sign at a time. The modular anodized aluminum sign frames feature a curved-face with a removable, clear lenses on the top and bottom portions of this sign and high impact plastic end caps. The end caps and sign dividers are available in black or grey plastic and the clear, non-glare lenses are easily removed and replaced with the aid of a suction cup.
This product features a curve from left to right and features 2" Header area that can also serve as a footer by turning and mounting sign frame 180 degrees.
The header portion of these signs includes free tactile text and ADA compliant domed braille dots. The main sign portion includes second-surface black vinyl text or graphics (vinyl is placed on the inside of the clear lens facing out to avoid tampering or vandalism).
In the future, order replacement lenses for room number or employee updates and changes - no need to order an entirely new sign frame.
Please call for numerous size variations not listed on this page. Signs available without header divider, just tell us what you need! Contact us at (701) 566-3220 or e-mail us at service@medicalofficesigns.com. We would be happy to assist in finding the perfect solution for you.