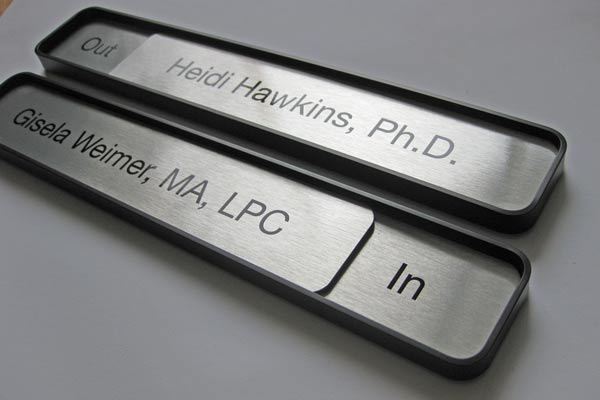 Changing Message Slider Office Signs
Sliding Message Occupied Office Signs - Customizable
For demanding professionals - Our 13"W x 2"H changeable message sliding office signs include a unique brushed metal name plate that slides left to right uncovering a changing message of your choice. Simply add the custom text in the Personalization Fields below - at no extra charge. Also, the lower nameplate with standard "In Session/Available" can be custom text of your choice, for example "In/Out" or Unoccupied/Occupied", Unavailable/Available, etc...ideal for office door signs.
Personalize this architectural-quality sliding office sign for 
medical office signage
, doctor's offices, meeting rooms, hospital waiting rooms, personnel nameplates or whatever you need. - Ideal sign to display the availability of any person, employee or room.
Changing Message Sliding Availability Office Door Signs & Medical Office Signs