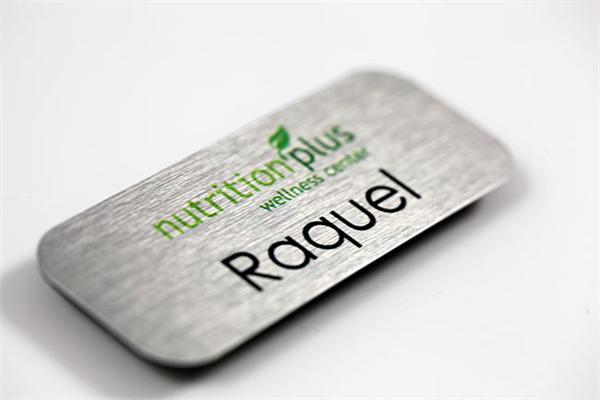 Metal Name Badges - Medical Name Tags
Health Care And Medical Name Badges
Custom name badges
 and name tags with full color logo and graphics. Free personalization at no extra charge. Our badges are of highest quality and come in various sizes and shapes.
Quantity discounts avaialble.
Premium name badges with free magnetic mounting, pin with safety lock, or convenient plastic pocket clip. Brushed metal name badges with an optional crisp, black backer for added durability and style.
3.25 x 1.75" or our slim 3" x 1.2" brushed metal tags and name badges. Shown in full color. Call us for a custom size or shape 
(701) 566 3220
The name badge choice for doctors, nurses, dentists and demanding professionals everywhere.
Metal Name Badges and Name Tags - Highest Quality Name Badge Made in the USA. Any size, color or shape.