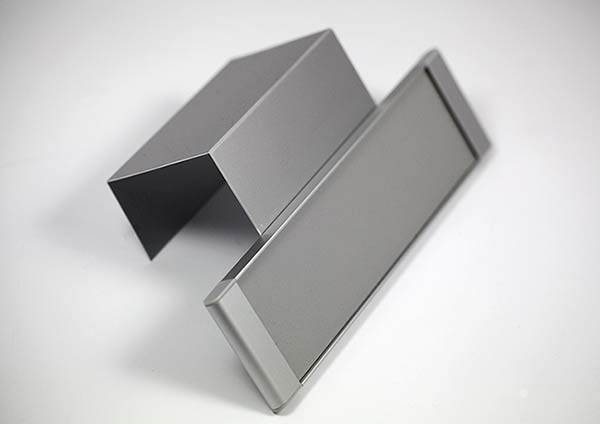 Satin Silver Cubicle/Workstation Sign - Removable Lens (Inserts Sold Separately)
Satin Silver Cubicle Signs - Hanging Workstation Signs with Custom Cubicle Hanger




Our interchangeable satin silver aluminum cubicle signs make it easy to update the names of any employee or workstation. A removable lens makes adding your own sign insert quite simple.
The aluminum hanging brackets on these signs are customizable to fit your cubicle wall. Provide your specific dimensions and we'll fabricate a hanging cubicle sign to suit your needs (reference the thumbnail photo for a visual display of the measurements we need). The custom-sized cubicle panel clips will take 4-7 business days to fabricate (plus shipping time), but it's worth it! Larger orders may increase lead time further.
Many sizes are available for the nameplate portion of this product. The dimensions listed indicate the physical insert size of the sign. Add 1-5/16" to insert width for overall width of entire sign, and add 1/8" to insert height for overall height of sign. Inserts are not included. This product is designed so you can create your own paper/card stock inserts (templates are available upon request), but we can produce inserts in a printed aluminum, engraved acrylic, or DuraSOL material for an additional fee. Call or e-mail our service team for a quote: (701) 566-3220 / service@medicalofficesigns.com.
Due to the custom nature of the cubicle hanger mounting of this product, it may not be returned or exchanged.
Please note that one suction cup is included for every five Satin Series cubicle signs ordered, which is needed to remove the clear lens from the frame.
Click here to purchase inserts for this sign