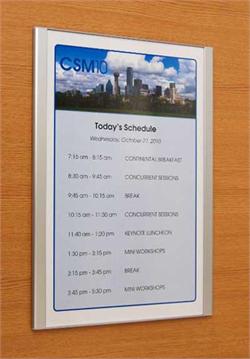 Satin Silver Message Holder - 8.5" x 11" and 11" x 17" (Inserts Sold Separately)
8.5" x 11" or 11" x 17" Satin Silver Sign with Removable Lens




These Changing Message Office Signs feature clear removable lenses, so you can place any paper message or custom insert in your sign. Note that the clear protective lens for these signs will need to be removed with the aid of a suction cup, which will be included upon shipment. One suction cup is included for every five signs ordered.
The dimensions listed indicate the physical insert size of the sign. Add 1-5/16" to insert width for overall width of entire sign, and add 1/8" to insert height for overall height of sign. These signs allow you to quickly and easily update medical office schedules, employees on duty, room names and custom conference room schedules.
This product is designed so you can create your own paper/card stock inserts (templates are available upon request), but we can produce inserts in a printed aluminum, engraved acrylic, or DuraSOL material for an additional fee. Call or e-mail our service team for a quote: (701) 566-3220 / service@medicalofficesigns.com.